ENROLLMENT IS CLOSED!
____
This program is designed to educate you to understand your body better, ditch the diet confusion, optimize your metabolism, and balance your hormones (for real this time) by providing the foundations necessary for you to thrive in a world of diet culture and confusion.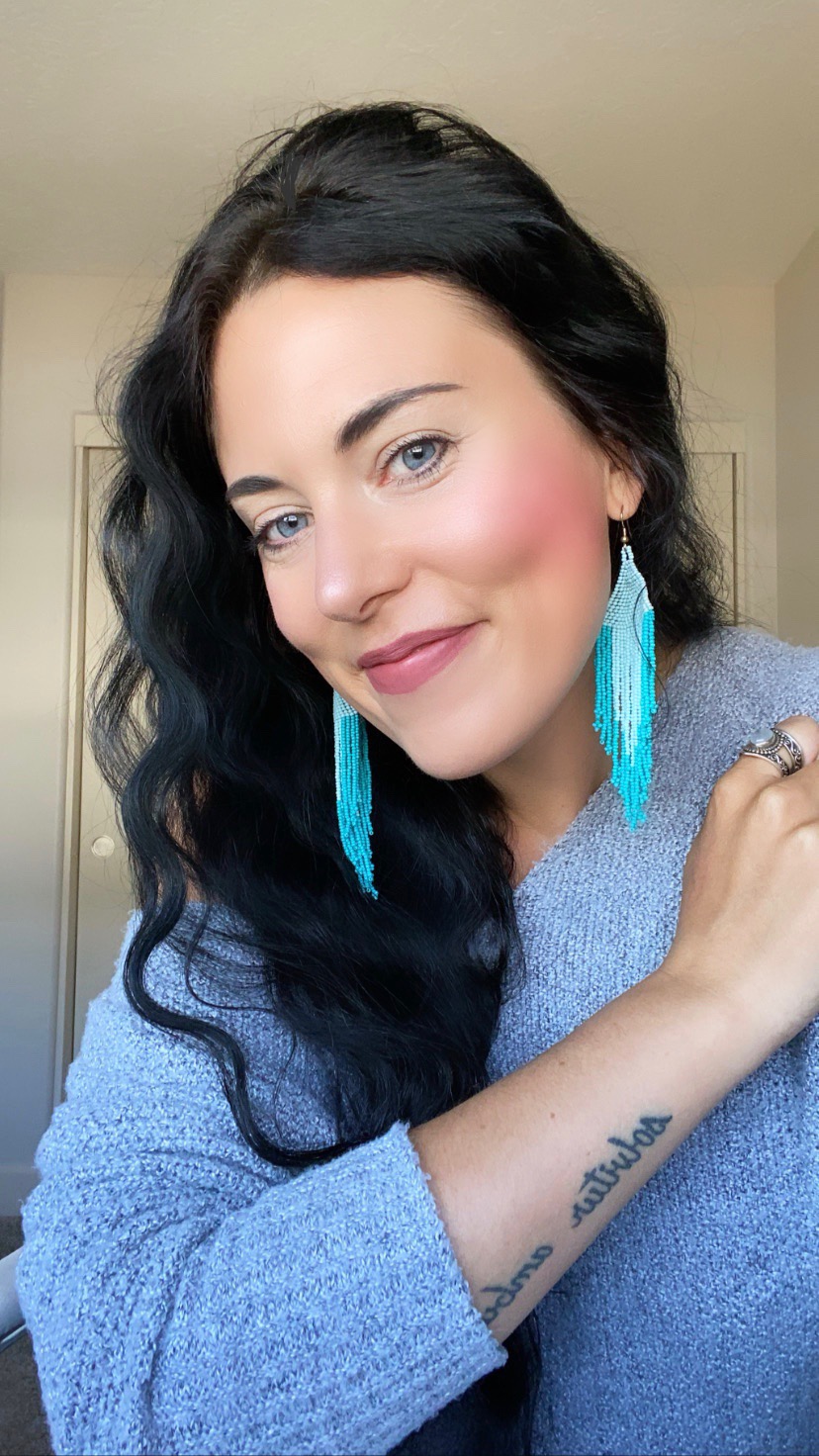 Because girlfriend, I've been there...
To say I have been through the wringer and back when it comes to my health is an understatement. I went from severe IBS and a slue of digestive issues to post birth control syndrome to histamine intolerance to estrogen dominance to other hormonal imbalances and adrenal fatigue to only be told by tons of (expensive) doctors that everything is "normal."
In hopes of healing my digestive issues I started restricting so many foods that I was left with 10 I felt safe to eat. Once I started noticing a difference in my appearance from this overly restrictive way of eating I became obsessed and turned to every diet in the book to keep my figure (I was thinking F* my digestion, I just want to stay skinny). I became a chronic yo-yo dieter trying every restrictive diet on the market, low carb, low calorie, low fat, you name it, only to come out sicker and more depleted.
Nothing was working until I finally took my health into my own hands, did loads of research on my own, cut through all the bullshit on what the world tells you it means to be "healthy" and finally found relief through a nutrient-dense way of eating – one free of restriction and diet dogma.
I created this hands on group program for any woman out there that is confused about what to eat, wants to heal their digestive and hormonal woes and is looking for guidance from a practitioner that ACTUALLY cares. I am the practitioner I wish I had years ago and this is the program I wish I had during my healing journey.
All the information in this program is based off of what I have learned through my wildly successful clients, my own healing journey and years of research and dedication to helping women. 
WHO IS THIS GROUP COACHING
PROGRAM FOR?
+ You want to learn more about your body, menstrual cycle and how female hormones play a role in how you feel because unfortunately we were never taught this stuff in grade school.
+ You're confused about all the "recommended" diets out there and want a protocol designed specifically for you with your physiology in mind that you can use for life, no dieting here!


+ You are tired of feeling confused about how to eat and live to reach your health goals without having to cut out food groups and restricting, obsessing over everything you put in your mouth and working so hard to be good and beating yourself up when you don't follow your "food rules."


+ You're sick of exercising until the brink of exhaustion, drinking smoothies and disgusting "fad" shakes, counting macros and calories, and constantly thinking about the state of your health or how your body looks.
+ You're dealing with digestive issues such as bloating, gas, IBS, heartburn, and other uncomfortable symptoms such as headaches, migraines, and skin issues – yes, these can all be related to your digestion. What if I told you how well your digestion is functioning also depicts how well your hormones are operating?
+ You're looking to restore your metabolism and balance your hormones to reduce anxiety, ditch those sugar cravings, feel energized and clear brain fog, reduce PMS and menstrual symptoms, feel confident in your own skin, and lose that stubborn weight for good- the right way.
+ You're wanting to just feel good from the inside out and most importantly learn to love yourself and find true happiness in all aspects of your life. When you feel good- life is good.
What members are saying...
"This group program was the missing piece of the puzzle for me. It was worth every dime and more for me. The feedback from my HTMA test was spot on. I Have Hashimotos and also had chronic pain from past surgeries and radiation therapy. I was stuck in a spot where nothing was changing and had zero energy. Just after a few weeks of supplementing minerals, adding in simple foods and adjusting my diet, I was fully off of pain meds! She gives you loads of information, from hormones, digestion, lifestyle, and diet! Really every woman should have this info. The way I feel from just a couple months ago is night and day. I cannot recommend this program enough. Laura is passionate about her work, kind, beautiful, and quick to respond with questions!"
- Sarah
"Laura's 6-Week Program was mind-blowing! She puts her heart into everything she teaches and is very honest and forthright with the information she shares. She was extremely attentive and graciously tolerated my plethora of questions. She shares her sources and explains WHY she teaches things - this is hard to come by. 100% worth your money because this course could change your life."
-Estelle
"First off Laura is an amazing person! She is very genuine and cares a great deal about all her clients. She listens and is always there to answer questions! I learned so much through her wild Lyons wellness group! It has really put a whole new perspective on my life. I've been trying to heal my body for years and i had a great deal of stress around food that I can now let go of because of Laura and this program. Thank you so much for being real Laura and guiding me to a better version of myself!"
-Caitlyn
"I'm so grateful to have come across Laura's Instagram page. Her no BS approach is what initially intrigued me! I love how real and relatable she is. Laura was and continues to be so open and created such a comfortable learning environment."
-Andrea
"Loved everything! I liked the group calls, but I loved having the Facebook group where we can ask Q's anytime. Laura was super attentive and gave great feedback. I love that Laura included articles + research to back all her answers and content...super appreciated! And UNBELIEVABLE value for money. I'd do it again for double."
-Alyssa
"This program went way beyond my expectations. Laura really gives you the tools you need to improve your well-being. All the modules are full of information and examples of how you can start implementing her recommendations into your life. It has cleared up so much confusion and anxiety around nutrition and wellness, and Laura is not afraid to call out BS trends and misinformation in the wellness community. She was already available to answer questions and you can tell she truly cares about making sure you understand and have a plan of action. I'm very happy I stumbled upon Laura's instagram!"
-Carly
"I am so grateful that I chose to invest in my health through this group program! I had worked with Laura earlier this year for an HTMA test, and while I had learned so much; I was still struggling to tackle my personal health by implementing all I'd learned. This program covers everything you need to fully understand how your body works, and Laura is amazing to work with! She sifts through conflicting nutrition information and diet culture, leaving me feeling empowered about moving forward on my health journey. Before taking this course, I had been chronically stressed for so long that it felt tantamount to who I was. Over the span of 6 weeks, I shifted to a new normal where I'm now able to recognize physical signs of stress, support my body with the nutrients it needs, and take steps to create a lifestyle that reduces the high levels of stress we experience daily. I truly cannot recommend this course enough; if you are interested in even one of the topics it covers, you'll come out with a deeper understanding and the tools to apply it to your life. "
-Yvonne
"I think all the PDF's and extras were super helpful! Especially the "how to build a plate" and "a day of eating". I'm a person that literally needs to be told "this is exactly what you need to do and eat" so having lists to reference back to is so great. I've been enjoying going to the grocery store because I'm excited to actually know what I am going in for and that I'm buying foods that are going to benefit me. This program has helped my anxiety towards foods and also - I don't have to feel bad for eating cheese anymore!!"
-Cristy
WHAT'S INCLUDED IN THE
GROUP PROGRAM?
> 6 weeks of recorded education modules released each week. Access to course content, resources, and Facebook group for as long as I continue to offer the signature program (basically forever).


> Tons of resources and guides to go along with each module.
Including recipes, shopping/product lists, health journal, + checklists
> Access to my client portal for more 1:1 support for Food + Mood Journal reviews to track progress during the program. With the hour long HTMA read and the food and mood journal reviews it makes the program more personal and like working 1:1 together.
> Weekly hour long Zoom calls to go over content and have occasional professional guests. We will also use this time to ask questions and hang out as a group. (will be recorded if you are not able to make it)
> Continued access to the program and Facebook group for life to access bonus content/modules and course updates.
> Private Facebook group for questions and accountability during the entire program and thereafter to keep in touch with the other ladies and myself. We share recipes, health successes and struggles, products we love, you name it! Basically you have my advice and guidance for life to freely ask questions and engage as a group.


> A community of amazing like-minded women with a similar goal in mind.
> An opportunity to work 1:1 with Laura to order more labs and dive deeper into your case if needed at a discounted rate.


And so much more...
**** PLEASE NOTE: This program is set up so that you can do it at your own pace, you do not need to complete it in 6 weeks, you have the content for life. It is up to you if you want to join the group calls, fill out food and mood journals for review or engage in the facebook group, if you don't want that additional support and group programs are not your thing that is totally okay! You still get all the great content and a session to go over your HTMA if that is the package you choose!
HOW CAN YOU EXPECT TO FEEL
AFTER THE PROGRAM?
You will feel nourished, balanced, and have a deeper understanding + connection to your body.


You will have gained knowledge about how the female body works + how our hormones play a role in how we feel.


You will finally understand how your cycle works + how to master it for better moods, less PMS, + less menstrual symptoms. You will experience a happy, healthy period!


You will feel empowered to take health into our own hands and find a way of eating and living that works for you.


You will have increased energy all day long!


You will experience less bloating, gas, + normal bowel movements.


You will know how to track progress and be able to pin point when your health is not optimal and what the heck to do about it.




Ready to balance your hormones, support your metabolism, and feel confident in your food choices? Ready to ditch the dieting and restriction for good?
Program start date:
MONDAY, JANUARY 10th 2022
PROGRAM ONLY
$447
HTMA PACKAGE
$697
Includes the entire 6 week program + HTMA Lab (included in the cost) + 45 Minute Session to go over results
Due to the downloadable nature of this product. No refunds will be issued.
Once enrolled you will receive an email from Wild Lyons Wellness a few weeks before the program begins with all the next steps.
If you chose the HTMA Program please fill out the form after checkout so I can send out your HTMA collection kit.